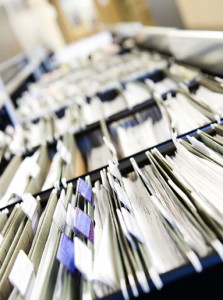 A company is required by law to retain confidential client information and employee and company data for certain periods of time. A document retention policy (DRP) defines how and when your company should review, retain, and destroy documents received or created in the course of business. A DRP will identify documents that need to be maintained and will contain guidelines for how long certain documents should be kept. This will help to manage electronic and physical storage space. A properly managed DRP may also assist your company in the event of litigation.
Why Do You Need a Document Retention Policy?
A document retention policy is the foundation of an effective records management program. The policy defines an organization's legal and compliance recordkeeping requirements. A company implements a DRP in order to ensure that its records are kept as long as legally and operationally required and that obsolete records are disposed of in the appropriate manner. If followed properly, the DRP will ensure that employees adhere to approved recordkeeping requirements consistently.
A properly managed document retention policy can provide the following benefits:
Improve business efficiency by a consistent implementation of record keeping policies.
Improve the ability to locate and retrieve records when needed.
Provide better utilization of resources by removing outdated records.
Reduce litigation risks
Demonstrate compliance with federal and state laws and regulations
It is important that all types of records should be accounted for in the document retention policy. Each type of document or data should have a retention schedule and a secure destruction schedule to reduce risks associated with data breaches. Irregularity or inconsistency in a company's records program can damage a business' credibility with clients, government agencies, courts, etc. Additionally, keeping records for longer or shorter times than guidelines dictate exposes a company to unnecessary risk.
From a risk-management perspective, once a time period to retain each type of document or data is agreed, the only acceptable way to discard the documents and data is to make sure they're irreversibly destroyed. Shredding is a legal requirement for many types of documents. Onsite shredding by a certified shredding company is the safest method to destroy these old documents. Be sure to get a Certificate of Destruction that specifies the exact date and method used to destroy the documents.
To assist businesses in creating the best retention schedule, Action Shred of Texas has created a list of the most common documents that contain confidential information. The list shows the recommended retention period for each type of document in accordance with the common legal requirements.
These recommendations are meant to be guidelines for document retention only. This should not be taken as legal advice. It is always best to consult with a legal expert(s) or federal or state government offices to ensure that a business is following current legal requirements for their area.