Residential Shredding Services in Dallas / Fort Worth
Identity theft has become an alarming concern for those who value protecting personal information from falling into the wrong hands.  The Federal Trade Commission announced that the #1 complaint filed in 2013 was identity theft and that over 10 million people are victims each year. To make matters worse, Texas consistently ranks in the top 10 states for complaints.
With so much of our personal information entrusted to financial institutions, credit card companies, insurance agencies, hospitals, professional offices and the list goes on and on, consumers are looking for every possible way to safeguard personal identifying paper documents from malicious use.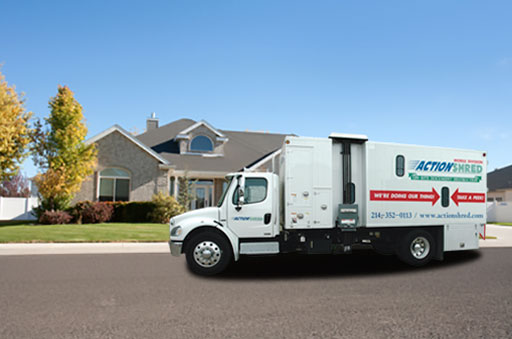 Action Shred will send a truck right to the front door of your residence to destroy sensitive records that you don't want exposed to the general public. Whether you have a box, bag or file cabinet with personal documents, we will shred them securely and conveniently providing you a Certificate of Destruction from the service.
Certified onsite mobile or facility-based shredding available
Trained, uniformed shredding techs move the documents from your residence to our truck
State of the art shredding equipment reduces your documents to confetti sized fragments
GPS truck tracking monitors the transportation of your documents to our facility
Certificate of Destruction provided for your files after the job is complete
All of your shredded documents are recycled to be environmentally responsible
Contact an Action Shred expert today at 214-702-3526 to discuss your residential document/paper shredding needs!