Mobile Document/Paper Shredding Service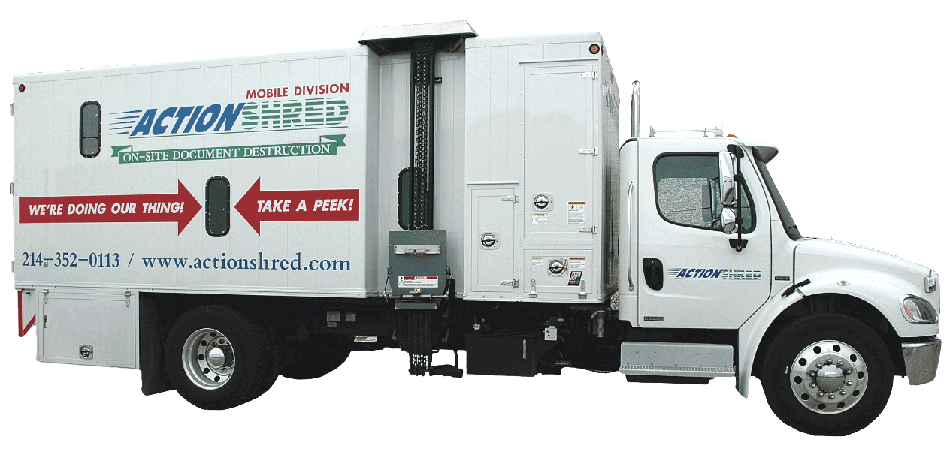 With identity theft concerns on the rise, many companies now rely on mobile document shredding to securely dispose of documents and electronic media that contain confidential, private, and/or proprietary information.
To ensure documents are shredded immediately and securely, businesses can choose a company to do the job on location. That's why Action Shred's mobile shredding service is more popular than ever.
When you use Action Shred, you can trust our mobile shredding techs to handle your materials with professionalism and efficiency.
Mobile Shredding Services For:
Employee data
Company reports
Cancelled checks/financial information
CDs/computer disks
Videos/DVDs
Business or personal mail
Patient X-Rays (for medical offices)
. . .  and much more
Mobile document/paper shredding is perfect for companies that regularly deal with confidential information including:
Accountants
Attorneys
CPAs
Dentists
Escrow companies
Hospitals
Medical practices
Manufacturers
Realtors
Title companies
We offer multiple shredding options to fit your schedule, budget and compliance standards, including HIPPA requirements. Our mobile shredding services are ideal for a one-time purge, or for regularly scheduled shredding services
How does mobile shredding work?
An Action Shred tech comes to your location to collect your documents. We transport your materials via locked containers to Action Shred's mobile shredding truck, which is locked and secured.
While you watch, your materials are torn into tiny pieces. You can see the results through a porthole in the side of the Action Shred truck—ensuring chain of custody has been maintained to meet regulatory requirements.
Contact an Action Shred expert today at 214-352-0113 for a no-obligation quote on our mobile shredding service!
Action Shred of Texas is a family owned and operated shredding company that has been providing prompt, professional off-site shredding, hard drive destruction, and mobile shredding services to Dallas/Fort Worth area businesses since 2003.
Located in Dallas, Tx. Action Shred of Texas serves the Dallas/Fort Worth Metroplex, including:
Dallas, Tx
Fort Worth, Tx
Plano, Tx
Richardson, Tx
Frisco, Tx
Garland, Tx
Mesquite, Tx
Arlington, Tx
Irving, Tx
Grand Prairie, Tx
North Richland Hills, Tx