Our Team
Action Shred is owned by brothers Craig Litman (left) and Joel Litman (right). With the family name attached to the company's successful operations, the Litmans feel strongly that customer service should be prompt and personal.
---
Joel Litman
Co-owner
A graduate of the University of Missouri School of Journalism, Joel Litman has been in the recycling industry since 1984. He got his start in the business working with his father at Daltex Waste Material Co.
Joel founded Action Shred with his brother Craig in 2003. Joel and Craig are also the co-owners of Texas Recycling Surplus, Inc.
Joel focuses on his customers' needs and doesn't rely on machines, technology or computers to forge relationships. His early work in the public relations and advertising industry taught him the importance of adding a personal approach to business relationships—something he continues to believe in strongly today.
Craig Litman
Co-owner
A true sportsman at heart, Craig Litman always goes the extra mile to make his customers happy. As co-owner of Action Shred and Texas Recycling Surplus, Inc., Craig puts his strong motivational skills and formal training as a Certified Public Accountant (CPA) to good use.
After graduating from UT Austin, for several years Craig had a highly successful career in the accounting and tax field before joining his father and brother Joel at Daltex Waste Material Co. in the late 1980s.
In addition to using his accounting expertise, Craig is involved in overseeing all aspects of the business including sales, safety, marketing, logistics, business strategy and production.
---
---
In 2003, the Litman family launched Action Shred and hired a team of trusted employees, many of whom have worked with the family at Texas Recycling for years. We invite you to meet a few key members of the staff: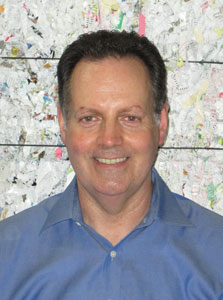 Dennis McCaslin
Business Development Manager
With over 20 years of selling experience, Dennis McCaslin brings a blend of skill sets in business development, sales training and account management to the Action Shred team. His background includes positions with global companies in both the document security and cash logistics industries. As Business Development Manager for the company, Dennis is all about happy customers, dedicated employees and creating a brand that is irresistible for potential clients.
Top qualities: Attention to detail, authenticity and big-picture thinking. Dennis is always looking for ways to add value to the services offered by Action Shred, whether through programs, people or processes. His commitment to encourage the team to consistently deliver quality, secure services to each customer is the focus of his efforts.
Favorite pastimes: If not spending time with his family, Dennis is reading about the newest exotic super cars, supporting his favorite English soccer club, Manchester United or engaged in his favorite passion; writing about life's random observations and the lessons we learn from them.
---
Ben Johnson
Director of Operations
Ben Johnson keeps a keen eye on the clock. During his 15 years as a corporate pilot, moving people from Point A to Point B required attention to detail and perfect timing. Today, as director of operations for Action Shred of Texas, Ben emphasizes that same focus overseeing internal and external processes to maintain the company's quality production expectations and high level of customer satisfaction. Ben follows a simple mantra for success: create a plan, work the plan, evaluate the results, and look for ways to do even better next time.
Top qualities: Teamwork, mentoring and goals for continuous improvement. Ben works with manufacturing and transportation teams to help them achieve the highest level of quality and service to benefit the company's customers and consumers.
Favorite pastimes: When he's not spending quality time with his wife and two daughters, Ben enjoys his hobby as a firearms enthusiast.
---

Monica Martinez-Araiza
Business Development Representative
With experience in sales and marketing, Monica's idea of business development is inspired by both numbers and results combined with a skill for turning ideas into achievable realities. For her, social responsibility is a critical component of developing a profitable business model while at the same time building a better society. Her commitment to consistently deliver outstanding service is based on doing what is best for each customer by providing viable and sustainable long term solutions.
Top qualities: Results oriented, reliable, positive and proactive. Her ultimate goal is to foster long lasting relationships with her customers that will be mutually beneficial.
Hobbies: When not at work, Monica loves spending time with her family and is always looking to meet new people.
---
Shannon Jurado
Shannon came highly recommended to us from one of our customers and hit the ground running from her first day! Her positive, can-do attitude makes her a natural leader providing direction for both our drivers and office staff.
As our Customer Service Supervisor, she oversees daily office operations providing direction for our drivers to be sure we are meeting customer expectations.
When away from the office, she enjoys party planning, crafting and loves to go to football, baseball and basketball sporting events.
---
Diana Morley
Diana is committed to treating every person she speaks with as if they were our most important customer. She offers valuable office support to our sales and service teams providing timely communication and feedback about our routes.
After hours and away from Action Shred, you'll find her reading, cooking and getting some exercise swimming in the pool. Family time includes hanging out with her husband and their Pembroke Welsh Corgi "Gizzy".
---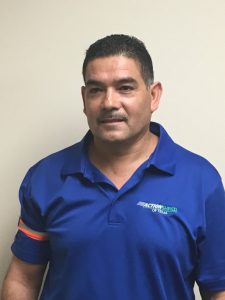 Ismael Cruz
As one of our seasoned shredding techs, Ismael is responsible for making sure all of our customers get their mobile shredding service in a timely, professional manner.
He enjoys the comradery with coworkers and making sure each customer is treated with courtesy and respect. His hard work and commitment to our customers is a great example to those who know him.
In his free time, Ismael enjoys spending time with his family and getting work done around the house.
---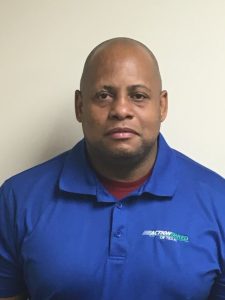 William Ramsey
As our newest service technician, William has extensive experience in the service industry learning to make customers happy! The skills he developed through the years taught him the value of servicing every customer with the same care and commitment.
His friendly, down to earth personality is evident when he services his route. William enjoys hunting, fishing and weight lifting when not at work.
---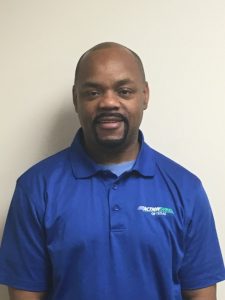 Greg Harris
Greg has strengthened our team in obvious ways since joining us in 2016 by servicing his customers with efficiency and professionalism.
He likes to get the job done right the first time and works with purpose to insure everyone is serviced in a timely manner. A team player, he is always willing to help others when needed.
When away from work, Greg likes to travel, spend time with his family and play basketball. Being from Wisconsin, he is a lifelong Packer fan but we won't hold that against him.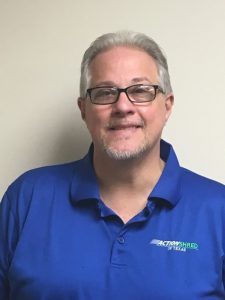 Robert Marshall
Robert has been a great addition to our company since joining us last year. He has blended easily into our team as a reliable professional.
As our onboard support ace, Robert is usually on the truck that has the most demanding route for the day and in need of the additional manpower.
When not riding shotgun at work, he indulges his creative side with oil painting and guitar; then balances that with a little drag racing.
---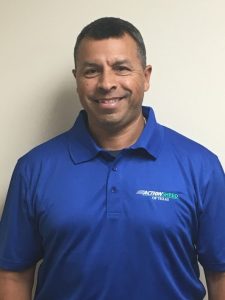 Armando Martinez
Armando is the model of consistency and has the track record to prove it. Coming from the route industry with over 25 years of experience with the same company, he is a fantastic team player.
He does his job with personal pride and it shows in the respectful way he interacts with his co-workers and customers every day.
Armando likes working out, riding bikes, camping and cooking out with his family.
---
---
---
---