Secure Document Shredding in Plano
A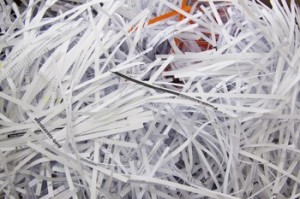 ction Shred of Texas has been serving the needs of individuals and businesses for secure document shredding in Plano area since 2003.
Whether you're interested in drop-off shredding services at our secure, state-of-the-art shredding facilities, or convenient, cost-effective mobile document shredding services at your home or workplace, we can help.
We're a family owned and operated shredding company, dedicated to providing our customers in Plano with the highest levels of security and customer service.
Call 214-702-3526 or Click Here
To Schedule Document Shredding Services in Plano
Security is our Top Priority
Your sensitive data can be compromised in a heartbeat. We take every measure to ensure your complete safety and that of your customers. These measures include:
In depth background screening, and security credentialing of every employee we hire
24 / 7 closed circuit television camera monitoring of our state-of-the-art shredding facilities
Strict adherence to chain of command best practices and HIPAA regulations
Annual Certified Protection Professional (CPP) inspections of our shredding facilities
Contact us for a no-cost, no-obligation quote
Call 214-702-3526 or Click Here
Document Shredding Services that Meet Your Needs
We specialize in providing ongoing document shredding services to businesses throughout the Plano area. Unlike some other document shredding companies, we don't offer "cookie-cutter" solutions. Instead, we spend the time to get to know about your business, and make recommendations based on the quantity and type of sensitive documents your company generates, including:
Onsite mobile shredding
Offsite shredding at our secures facilities
Installation of secure collection containers at your location
Weekly, bi-weekly or monthly scheduling
For HIPAA-compliant, environmentally-friendly document shredding in Plano call us today at 214-352-0113.